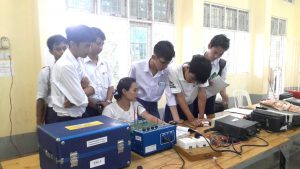 Electrical equipment and measuring instruments, trainers and software help to provide the students the most complete solution for education and training purposes.
The following measuring instrument provide for Electrical Engineering Circuit lab:
Digital Oscilloscope
DC Power Supply
AC Regulated Power Supply
Voltage Regulator
Function Generator
Digital Multimeter
Analogue Multimeter
Modern Inductance Capacitance Meter
Insulation Resistance Tester
Digital Clamp Meter
In addition, the following trainers are used for Electrical Engineering Circuit, Power Electronic and Electrical Control Engineering at Engineering Circuit Lab.
Electricity and Electronic Fundamental Trainer
Power Electronic Technology Trainer
Analog and Digital Trainer
Programmable Logic Controller (Siemens S7-1200/300/Logo)
COM 3 Lab Equipment

Electrical Engineering System Modules

Three-Phase Technology System

Magnetism / Electro Magnetism

Electrical Network Analysis System

Electromagnetic Compatibility (EMC)

Synchronous and Slip-Ring Machine

Active Power Factor Correction

Self-Commutated Power Converters

DC Servo Experiment Panel
In the Electrical Machine Lab, the following Electrical Machine Trainers are used for operating and training.
Electrical Machine Trainer (XPO-EMT)
Motor and Towage Experiment Trainer
Electrical Meshed Board Trainer (ETT 2)
Electronic Combined with PLC Practice Trainer (PLC 6)
University lecturers or educators teach or demonstrate by using the above lab equipments in each subject for the whole course of Electrical Power Engineering.